Music Performance and Production (Performance Pathway)
Overview

This course offers a broad range of study designed for aspiring professional musician.

On this course you will:

Work towards performances

 

Create original music developing songwriting and composition skills

Create recordings involving music production, recording and sequencing skills

Learn about the wider music industry and the opportunities it offers

 

Develop specialist skills such as music theory, advance performance / production skills such as solo performance / audition repertoire, sound design

,

etc

Work on large collaborative projects with others to launch yourself publicly or others as artists, bands or producers,

etc

Prepare to progress into industry or higher education

Develop a large ambitious music project of your choice at venues such as the Exeter Phoenix

Benefit from our strong links with music industry professionals to gain work experience and plan your career by attending the many talks and workshops

 offered

Have access to our professional-standard equipment and facilities

 

Assessment is coursework based and a combination of completing practical activities and written work. This might include the creation of an album of original material, putting on a showcase performance, creating a blog to analyse music development or evaluate projects, etc. All assessment is tied into larger scale projects and made as industry relevant as possible.  

Choose this course if…

You live and breathe music and have a strong motivation for studying music at higher education level or entering the music industry.  

Progression and careers:

You could progress to study Music Performance, Music Production, Commercial Music, Music Business, Songwriting, Composition or Film/TV/Game Music Composition at university. Or enter the music industry.  

Entry Requirements

Subject specific entry requirements or recommendations: You will need five GCSEs at grade 4 or above, including English Language and Maths. You will also need to play an instrument with confidence and intermediate skill, assessed through an audition at interview (you should be approximately Grade 4 level, however, you do not need to have taken the exam. Speak to your instrument / music teacher if you are unsure about this). Vocalists are encouraged to learn either piano or guitar to support their studies. You should also have a basic knowledge of music notation (pitch and basic rhythm. More advance knowledge is preferable). 

Facilities

Our Centre for Music and Performance includes recording studios, rehearsal suites, Mac computer suites, and performance area.

Additional Costs

£140 fee per year for enrolment to the Exeter College Music Academy. This entitles you to individual instrumental or vocal lessons, cut-price tickets for outside events, and master-classes and workshops from visiting industry professionals. A bursary for this fee may be available. Cost of instruments and music where needed, media such as blank CDR etc. Students will provide their own headphones and USB pens.

This further education course is free for all 16-18 year olds who are resident in the UK and the European Economic Area for the last 3 years. (You must be under 19 on 31st August in the calendar year that you start your course). For any fee-related queries or further information, please contact the Advice and Recruitment Team on 01392 400444.
Have a question?

If you have questions or would like to speak to someone, our team of Customer Service Advisers can help answer your questions or direct your enquiry to the correct team.
Speak to us today on 01392 400500 or email info@exe-coll.ac.uk.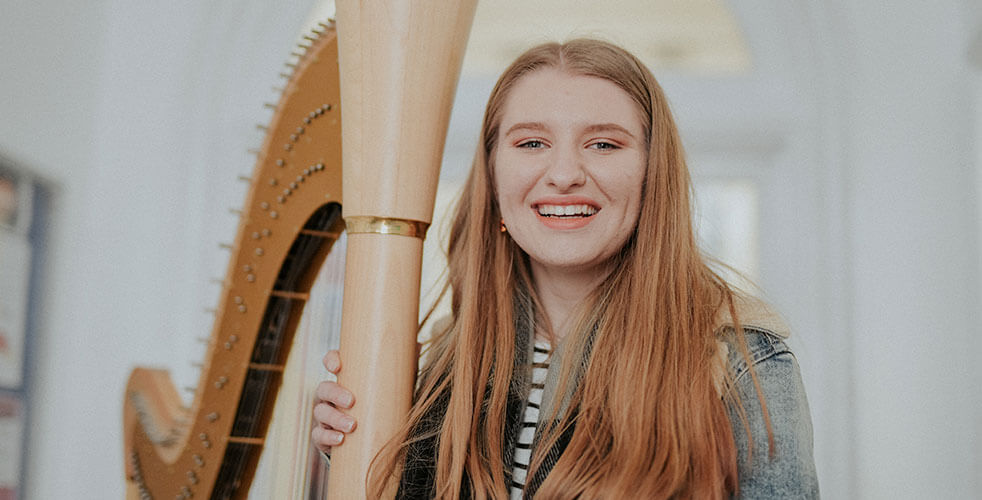 What our students think?
"I recommend Exeter College to anybody with an aspiration to get somewhere. The network is incredible, I've met tonnes of people since I started here. The teaching here is also outstanding. The staff are all very passionate about what they do and this shows through the results. I've really enjoyed the ability to practice at... Read more >
The support you get from the college is amazing and overall I have had the best experience. I enrolled on to this course because after college I want to go to a conservatoire to study harp full time, to then go on to teaching. My course offered theory, composition and performance. Having sucha wide range... Read more >
My favourite part of college was definitely my music classes. Getting to work with other musicians and write and create music together was so much fun, I really miss it! I loved our final performance at the Exeter Phoenix, it was a special and memorable show. Read more >
Level: Level 3
Duration: 2 years

Level: Level 3
Duration: 2 years

Level: Level 3
Duration: 2 years