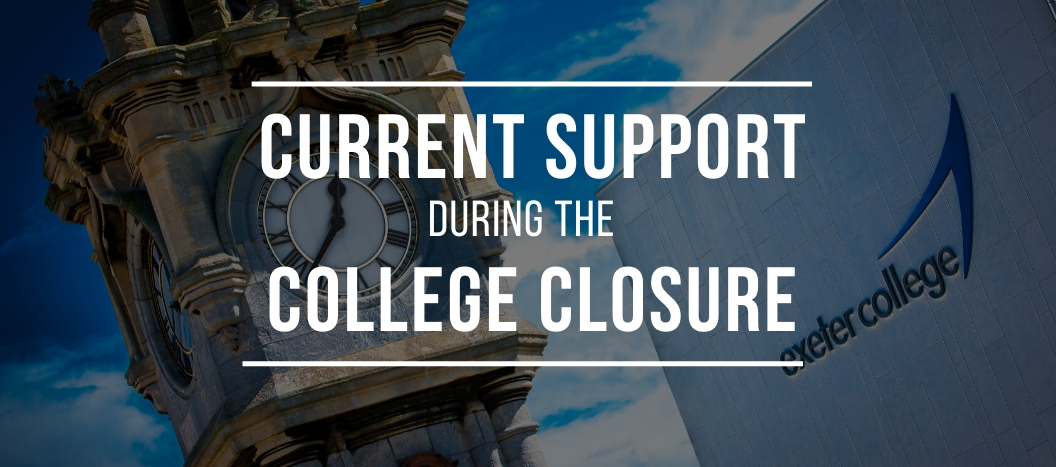 College Closure and Current Support
Updated: 19/03/2020, 01/06/2020, 31/07/2020

The following information relates to the current status of the closure of Exeter College in accordance with the latest government advice.
Our top priorities are the welfare of our staff and students and aiming to continue to deliver exceptional education in the face of adversity.
Ongoing Support
We are evolving how we support our students to ensure they continue to receive their Outstanding education with us. This will mean different things to students studying at different stages with us. Please see below for the latest advice, in accordance with the latest government guidelines.
Current Year 12 Students, Level 1, Level 2 and Level 3 (first year) learners
Online learning continues
Students have been working hard to adapt to the home learning provision we have put in place. It's important that all students continue to engage in learning at home, and continue keeping in touch with their tutor and subject lecturers throughout the period of remote learning. When our physical spaces reopen fully, we will work with students to ensure that they're still on track with their learning.
Students should continue to check their College email address daily to keep up to date with their studies.
Anyone struggling to access online learning for any reason should contact their tutor for advice about the support we can offer in the coming term.
1:1 Tutorial Support
In line with Government advice, we are making some adjustments to the support we are able to offer from 8th June. Our absolute priority is to ensure students feel safe, supported and ready for their next steps. From 8th June, tutors will be arranging a supportive 1:1 session with students.
Our lecturers will make themselves available on site for anyone that needs this meeting to be in person, but this can also be held remotely. So that we can make sure everyone who does come to College for support during the final term does so safely, please do not come onto site without arranging this with us first. Tutors will be in touch with students to arrange an appointment time.
In addition to tutorial 1:1s, we will be supporting anyone that has found online learning difficult or that needs to complete work or assessments to get their qualification this year. Students will be contacted directly via their College email address if this applies to them.
Current Year 13 and Level 3 (Second Year) Learners
Progression Support
From 1st June our support for learners in the final year of a study programme will move from being subject-focused to ensuring they are ready for their next steps in September. Following the half term break, as per the usual academic calendar and timetables, online subject-based learning will be ending for all those that have completed everything they need to get their qualification.

We will shift support instead towards progression opportunities.
We're aware that, even in ordinary years, our learners can find choosing their next step after College exciting, yet daunting. Students coming towards the end of their formal studies with us will be firming up their planned steps in to employment, further study or university. Given the current challenging context, we want to make absolutely sure that all students have the information they need to make a confident and positive start to the next chapter of their lives.
Tutors will be in contact with students to check on their plans for September and to offer help to anyone who is unsure or thinks they want to change their plans. Students should continue to check their College email regularly to keep in touch with their tutor.
In addition to tutorial support on progression options, students can also contact our Progression and Employability Team for a wider conversation about aspirations and progression. They can provide impartial advice and guidance on getting students to achieve their goals on their next step. They can be contacted on progressionteam@exe-coll.ac.uk.
Awarding Grades
The Government has revealed how grades will be classified for Summer 2020. Find the latest details on how grades will be awarded.
Children of Key Workers and Vulnerable Children
As part of the country's ongoing response to Coronavirus (COVID-19) and to continue to support our students the college has made provision for children of Key Workers and vulnerable children to work from the college site. If you or your parent/guardian think this applies to you, and you want some extra help please contact us by emailing our dedicated support team on cv19support@exe-coll.ac.uk and we will let you know how we can help.
While the College is Closed
Staff have been preparing for this for some time and have planned for how they will continue to support learners during this period.
For Apprentices we have developed a Remote Working Guide
There is a wealth of information and support available to students on the Student Hub, you can access this support using your college login here.
Information for applying students, including interview arrangements, can be found here.
Advice and guidance for getting the most from working from home is available on social media through #ExeCollTogether or on our ExeCollTogether page.
Exams and Assessments
Following the statement from the Government we can confirm that all exams and assessments will not go ahead as planned. The Government have promised to work with school and colleges to ensure students get the qualifications they need. See the latest guidance on awarding grades and qualifications in 2020.
Support with Remote Learning
We may be able to provide extra support for some learners with learning from home if they are in a vulnerable learner category. Please contact us by emailing our dedicated support team on cv19support@exe-coll.ac.uk and we will let you know if we can help. As you can appreciate this is a very busy time for the team and we are doing everything we can to support learners.
Adult and Higher Education
As with all other areas of the college, we are committed to ensuring that all of our students on Adult and Higher Education programmes are able to continue with their studies and qualification during this time. There are plans in place to continue with your teaching and learning remotely. Your Programme Manager and Lecturers will be in contact share the specific details, along with any requirements for changes to assessments.
Upcoming Events
All future physical events have been cancelled until further notice.
You can register now for our Adult Online Open Event, which takes place on Tuesday 16th June, 3-7pm.
We understand this is an uncertain time for everyone and Exeter College will continue to issue communications via email, our College website and the usual College social media channels.
For the latest government advice regarding the Coronavirus (COVID-19), please see their website.
UPDATED 31/07/2020: The cross-College risk assessment has been produced in line with the latest guidance and can be found here.
A message from the Chair of Governors, David Allen OBE:
"On behalf of the Board of Governors we would just like to say that the health and welfare of our staff and learners is our highest priority. We will provide whatever is in our means to the Principal and his colleagues to support you. To our staff we cannot thank you enough for all you are doing. We are also grateful to learners for their understanding during this very difficult time.
"All the governors of the College are thinking of you and hoping that you and your families stay safe and well."