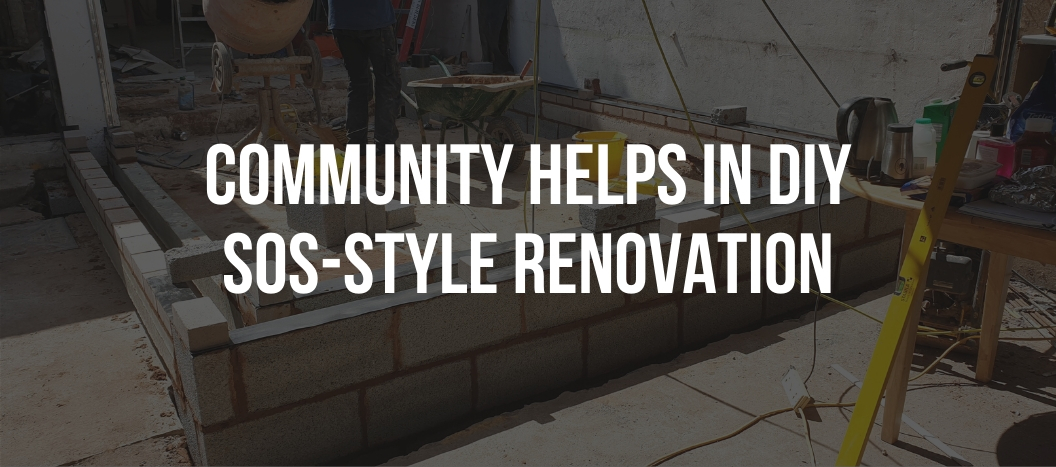 Community helps in DIY SOS-style renovation
Exeter College Apprenticeship Bricklaying Skills Officer, Steve Harcus and a band of volunteers have been working on a DIY SOS-style house renovation for a much-loved member of the Exmouth community.
Derek Marsh, owner of Spraypoint Bodyworks, was involved in a serious motorcycle accident in February which has sadly left him paralysed for life, from the upper chest down.
Following the accident, a call was put out on an Exmouth Facebook group for tradesmen requesting help to convert Derek's home for wheelchair accessibility. Since, there has been an overwhelming response from people wanting to support Derek and his return home. Until recently, Derek had been staying at Oddstock's Spinal Rehabilitation Unit, but has since moved to Exeter's Mardon Neuro Rehabilitation Centre where he hopes to stay before returning home.
Volunteers and companies across the community have come together. Exmouth-based Vinnarry Property Design Solutions have kindly drawn up the plans to make Derek's home liveable for him again, free-of-charge. Work on the site is being led by Cockman Builders.
Having known Derek for over twenty years, Steve wanted to do all he could to make plans a reality and has used his annual leave from Exeter College to join the team on site.
Steve said, "Derek has worked on several of my vehicles over the years. We also have a shared interest in motorbikes, so he would always make time to stop and chat.
"When the post was put out on Facebook asking for help, I immediately contacted Dave Cockman to see if I could be of any use.
"I realised I had holiday left to use and it was agreed I could work for a couple of days (Thursday & Friday) to build an extension to floor level, in preparation for a couple of bricklayers to continue over the weekend. I would also see what else I could do whilst there as I am multi-skilled in construction."
With current restrictions in place, due to the coronavirus outbreak, the number of people who can work on-site at one time has been limited. This made Steve's wide range of expertise very beneficial.
Steve continued, "I helped with the demolition of internal walls, built a pier and set padstones on Thursday so we could fit steel beams on the Friday.
"Then I helped position the beams and completed the blockwork on the extension to floor level. I did this with the help of another bricklayer, who I have known since school.
"The atmosphere on site is excellent. As one said, 'I've never had so much fun on-site, and I'm not even being paid!' It was great to be a part of the team."
Since volunteering, Steve has returned to the site and has been happy to see more people helping with the build.
Although there has been a wonderful response from community volunteers, Derek's wife Emma has launched a Crowdfunder to help pay for the materials.
Any money left over will be donated to the Devon Air Ambulance Trust, who helped get Derek to hospital after the accident.
If you would like to donate, you can access the Crowdfunding page here.