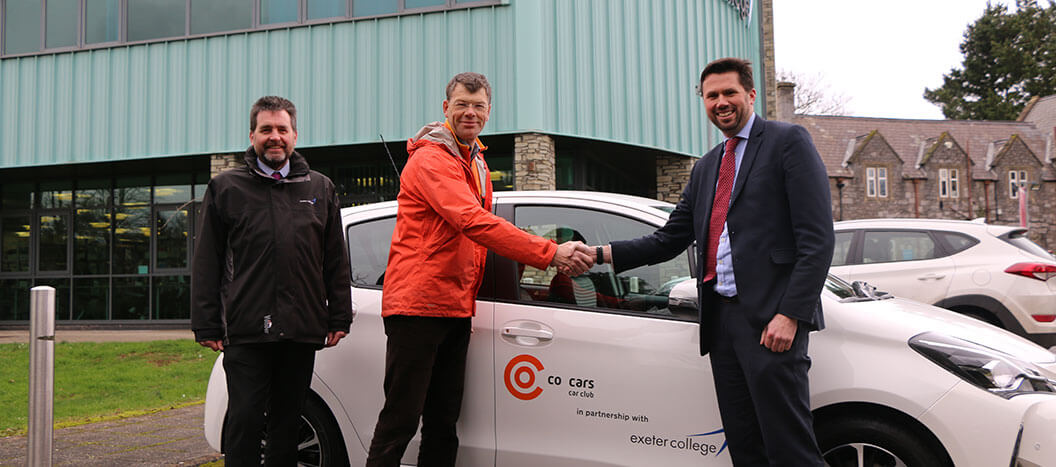 Co-Cars and Exeter College Announce Exciting New Partnership
Co-cars, the South West's hire-by-the-hour car club, and Exeter College, the city's multi-award winning further education college, have announced an innovative new partnership to give Exeter-based college staff access to their own dedicated Co-car.
Exeter College staff to benefit from dedicated Co-car for business travel
New Toyota Yaris Hybrid available from 1 February at College's Hele Road campus
Hire-by-the-hour scheme will save money and is environmentally friendly
Staff can also sign up for first year individual or household Co-cars membership for free
Starting from February 2019, a brand new Toyota Yaris Hybrid will be available at the college's Hele Road campus for staff to hire-by-the-hour. Whilst many businesses already take advantage of Co-cars' network of great value, low emission cars, this is the first time an organisation has had a car exclusively allocated for their use.
Steve Campion, Vice Principal (Finance and Business Operations), at Exeter College, said: "The college operates across 14 sites in Exeter and Devon. This exciting new initiative provides a more sustainable and cost effective solution for our 1000 staff to meet employers, schools and other key stakeholders across the region."
Mark Hodgson, Founder and Managing Director of Co-cars, added: "This scheme shows that Co-cars makes great sense for business use as well as for individuals. We make managing business fleet costs as simple as possible by only charging an hourly rate plus mileage. Everything else is covered by us. Staff will have access to the car whenever they need it and, if it is already booked, can use any other car in our network."
As a further incentive, college staff who sign up to use the car can also apply for free first year individual or household membership, allowing them to book, pay by the hour, and use Co-cars for their own personal use.
In addition to the dedicated Exeter College car, Co-cars has eighteen cars available for businesses and individuals to hire across Exeter and will be adding even more during 2019. All Co-cars can be booked 24/7 via smartphone and hire costs range from £3.75 to £4.75 per hour plus 18p per mile.* Hire costs are inclusive of fuel, insurance, breakdown cover, road tax and maintenance. Joining is easy, simply visit www.co-cars.co.uk/join and complete the online application form for business, individual or household membership. Businesses can also contact Co-cars to discuss options around having a car dedicated for their exclusive use.
Co-cars also operates Co-bikes, the city's on-street electric bike hire scheme. Set to expand during the first quarter of 2019, the increased Co-bike network will work together with the cars to offer on-demand, shared mobility for all right across Exeter.