Virtual Open Event for Adult Learners
Virtual College Experience for
Adult Learners
Welcome to Your Virtual Exeter College Experience
On this page you'll find everything you need to get started on your journey to start with Exeter College.
This page is intended for any adult who is considering joining us on a course, including GCSEs, Access to Higher Education, Professional Courses or Degree Level qualifications.
Please use the menu below to explore our on demand content:
Facilities
We have outstanding specialist facilities to help you make the most of your time studying with us. We have specialist sites for construction, creative subjects, engineering and maths and science as well as first class teaching and learning spaces for use across the curriculum..
Subject Areas
We offer an incredible variety of courses, across different levels to suit all abilities. Use this section to explore broad subject areas. Videos are available to give you a flavour of the subject area.
Study Locations
We have specialist study centres for adult learners, ensuring you have access to facilities that help you achieve your potential. Some adult courses will take place at our Future Skills Centre, an inspirational space based near Exeter Airport, or you could be learning in the new Digital and Data Centre on our Hele Road site. Check the location on individual course pages to find out where your course will be based.
Accountancy
Exeter College offers a range of practical accounting courses at all levels. We have experienced and well
qualified tutors who provide a high quality teaching and learning environment. So, whether you are a business owner looking to get an insight into bookkeeping, or want a career in accounting, we can guide you to the right path.
Previous Virtual Open Event Recordings
Adult Essential Skills
Exeter College offers a range of FREE English, Maths and Essential Digital Skills courses from Entry Level to Level 2.
Anyone who does not already have GCSE grade C/4 or equivalent in English, Maths and/or a Digital Skills qualification can be fully funded to undertake a programme of study, with the aim of working towards or passing a GCSE equivalent.
Principal's Talk
Hear from our Principal John Laramy CBE on how we work with all learners to achieve their potential.
Why study University Level?
Looking for a degree in the Devon area? Thought about studying at Exeter College? Here are 5 reasons why you can't say no! We offer a wide range of university level courses with our partner institutes including HNCs, HNDs and foundation degree programmes.
City Centre Sites Tour
Take a tour of our city centre sites with our College Advice Team.
Degrees that work
We believe in doing our degrees differently for you. For us, it's about you and your exceptional future. You won't be lost in the crowd with us. There will be smaller class sizes, outstanding teaching and support that's personalised to you.
Art and Design
Based in our Centre for Creative Industries, you will have the opportunity to express your ideas in a range of ways, specialise in your chosen subject and meet lots of other creative students.
Previous Virtual Open Event Recordings
Wellbeing
When you study with Exeter College, we look after you inside and outside the classroom. Our expert Wellbeing Team makes sure you're supported to make college the best experience it can be.
Centre for Creative Industries
The Centre for Creative Industries is a haven for students with a passion for art, theatre, media and dance.
It has a dedicated art gallery, the Yard Gallery, which showcases the fabulous work of our students. There is also a darkroom and photography studio with the latest equipment, a fully digital high definition TV studio, two Apple Mac suites, a broad range of media equipment to borrow (including HDV cameras, digital stills and audio equipment) and a shop with stationery basics and art supplies.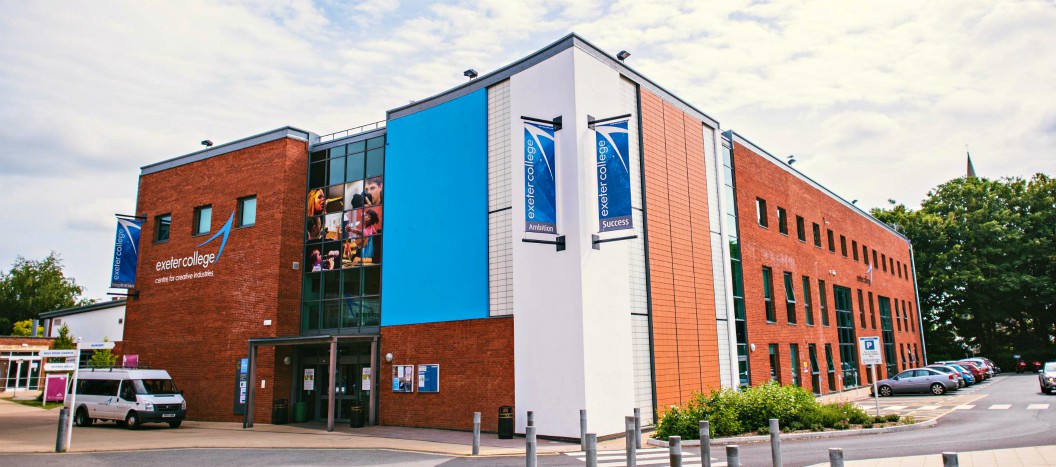 About Exeter College
Find out what learners think about studying with Ofsted Outstanding Exeter College.
Graduation
We are proud that we are able to offer our university level students a unique graduation experience. With a grand procession through the city centre, culminating in a ceremony that takes place in Exeter Cathedral, we truly believe there is no better way to celebrate your achievements. This exciting and rewarding event is much enjoyed by our students and we are often told it is the perfect way to end their time studying with us.
Business
Studying Business courses can open the door to a huge range of careers. Students learn skills from finance/accounting to marketing/sales as well as leadership and management.
Previous Virtual Open Event Recordings
Centre for Music and Performance
The Centre for Music and Performance is our hub for music and performing arts students. It has the latest recording and sound equipment and studios.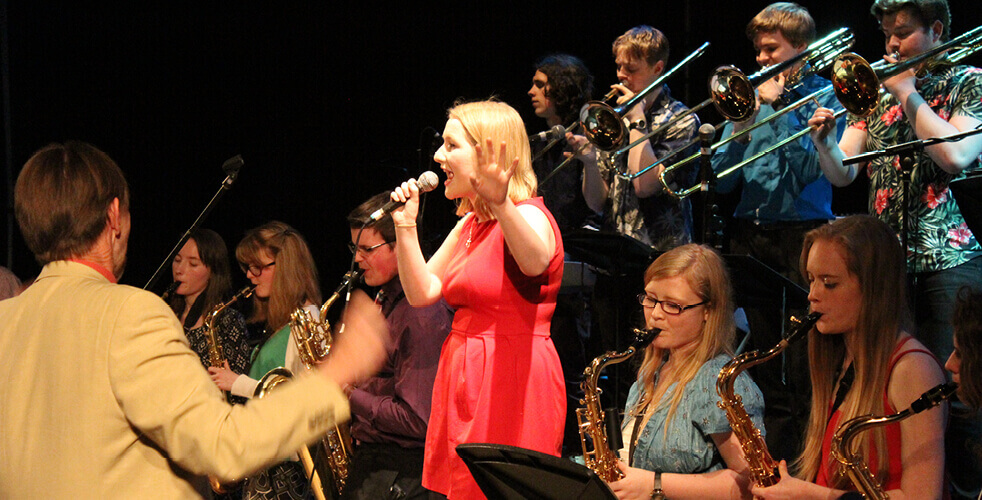 Caring Careers Unlocked
Supporting you towards a successful and rewarding future in the Health and Social Care sector. Choose this course if… you want to make a difference to the lives of others and further your career in a health and social care setting. This is a free, 8-week course, all you need is commitment and a desire to learn and develop.
Leisure Courses
Want to try something new? Our leisure courses can be a great way to meet new people and learn new skills. With courses from foreign languages to Mexican cuisine, who knows what new skills you'll learn?
Construction Centre
The college's specialist Construction Centre has excellent facilities, including two learning centre suites that run CAD, and our workshop facilities offer practical training space for all of the construction and building services courses that we offer from Levels 1 to 4.
Contact Our Adult Advisers
Our expert Adult Advisers can talk through anything about adult learning with us. They can help you on course choices, finance options and travel plans.
Email AdultAdvice@exe-coll.ac.uk with any questions or book a 1:1 Virtual Advice and Guidance session on 22 June using the buttons below.
Support for Adults
Find out about the range of support we offer adult learners, including learning support and support for care leavers.
Financial Support
Find out more about financial support available at Exeter College, including government funded courses, adult learning bursary, help with childcare costs and advanced learner loans.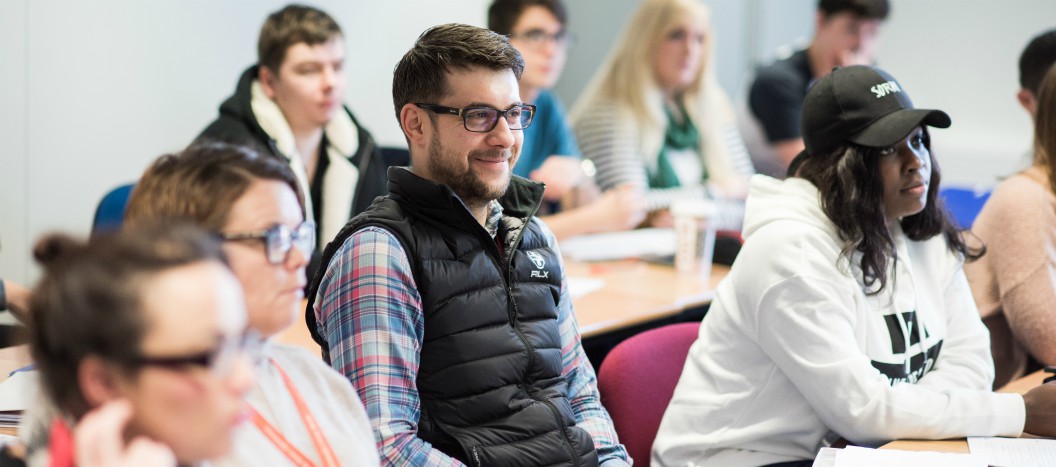 Construction
Are you keen to train for one of the UK's largest industries? We offer a range of courses suited to the needs of local employers and people looking to gain valuable industry knowledge, experience and skills. Our Construction Centre boasts excellent facilities for students learning in this area.
Previous Virtual Open Event Recording
Digital and Data Centre
The new Digital and Data Centre at Exeter College provides a nationally significant and prestigious digital learning centre in the heart of the city. Complete with digital learning laboratories, state-of-the-art IT suites and interactive seminar spaces, learners will have access to cutting edge equipment to help gear them to move directly in to industry or further study.
The Digital and Data Centre is home to a variety of employer-led curriculum programmes at different education levels with the aim of proactively meeting the skills challenges of the future in the digital sector.
Introduction to adult learning
This video gives you an overview of adult learning options with Exeter College. Watch this one first if you're not sure where to go next.
Exwick Sports Pavilion
We have outstanding sports and fitness facilities. The Exwick Sports Pavilion features playing fields, rugby and football pitches, including a full size 3G astroturf pitch and tennis facilities.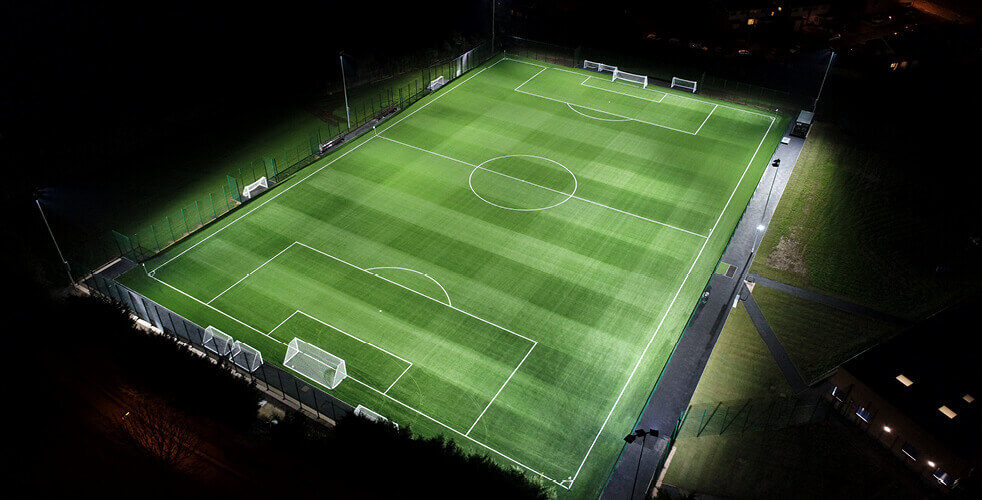 Counselling
Exeter College has recently been recognised by the National Counselling Society as an outstanding centre for counselling training. Here at the College you can progress step by step through a series of counselling programmes to become a fully qualified practitioner on completion of our Advanced Professional Diploma, which is accredited by the NCS.
Access to Higher Education
Access to HE courses give adults, who might not hold any formal qualifications, the chance to get a ticket to university level study with a qualification that is recognised across the country.
Engineering, Aerospace and Automotive
Are you a problem solver with excellent attention to detail? Do you have a passion for technology or motor vehicles? Based in our fantastic purpose-built Technology Centre and Future Skills Centre, our engineering and automotive students benefit from state-of-the-art industry standard equipment such as virtual welding facilities, a robotics suite, light vehicle workshop and much much more.
Previous Virtual Open Event Recordings
Future Skills Centre
Exeter College's new Future Skills Centre is now open, following a collaboration with Devon County Council. The Future Skills Centre offers inspirational opportunities for the region's young people, while also providing adult learners the chance to upskill or retrain for a new career.
Higher Education
Our Centre for University Level Studies offers you the opportunity to 'do your degree differently' with smaller class sizes and a supportive environment with excellent teaching. Our Higher Education (University Level) qualifications are delivered in partnership with leading universities.
Hele Road Site
Our Hele Road site acts as the main headquarters for the college and is where many of the administration and support departments are based. Although it also has teaching spaces which are mainly used by the faculties of English, Languages and IB, Healthcare, Childcare and Public Services, Hospitality, Hair and Beauty, and Foundation Learning and Support.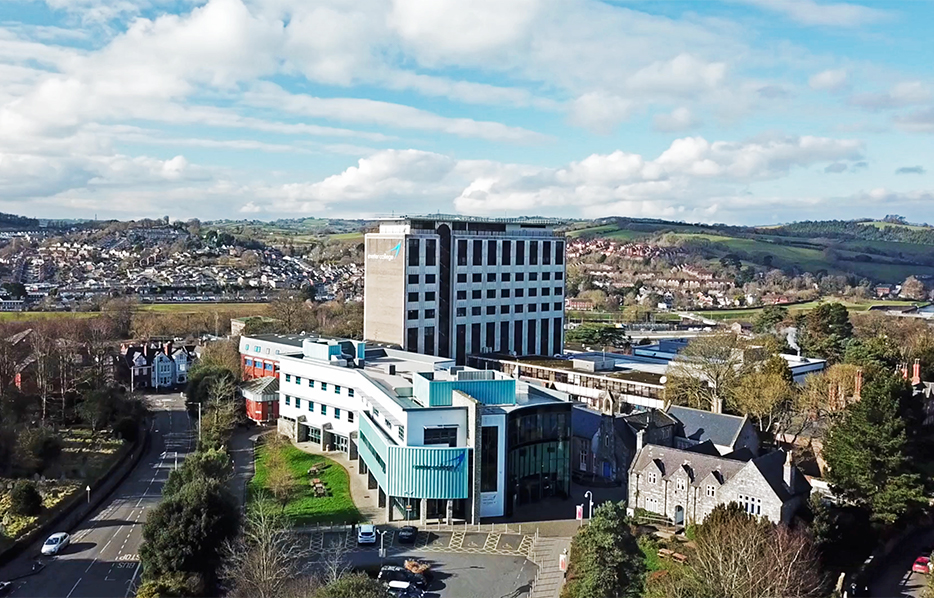 English to Speakers of Other Languages (ESOL)
Do you want to improve your English Language skills? The ESOL Skills for Life Course is offered at 5 qualification levels plus a beginner's class. Learners study twice a week with morning, afternoon and evening classes available. There is an exam at the end of each term and a chance to gain a national qualification. We also offer a Certificate in Teaching English to Speakers of Other Languages (CELTA)
Haven Banks Outdoor Education Centre
Haven Banks Outdoor Education Centre is a world class, award-winning centre, run in partnership with Devon County Council, offering a wide range of activities including sailing, canoeing, kayaking, windsurfing, climbing, caving, orienteering, archery, raft building, team building and first aid.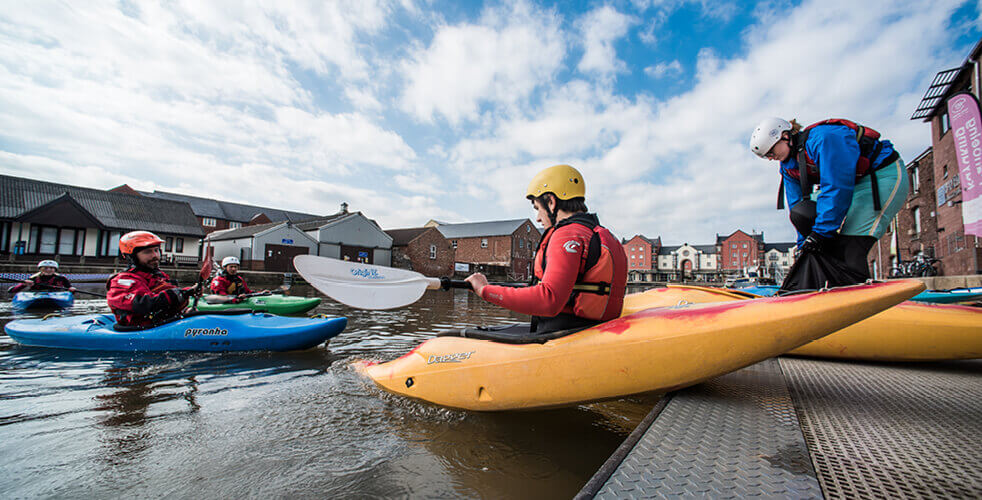 IT and Computing
IT and Computing courses are ideal if you want a rewarding career in the world of technology.
Previous Virtual Open Event Recordings
Professional Courses
Exeter College offers a wide range of professional courses and training opportunities.
These courses offer individuals the opportunity to develop skills or re-train in specific professional areas, as well as more generally improving career prospects. We understand that in the current climate, people may find themselves needing to upskill or completely re-train. We will have a course for you. Please contact our Adult Advice Team for guidance and they will get you on the right path.
Maths and Science Centre
Our Maths and Science Centre provides specialist facilities that enhance and enrich those with a passion and talent for maths, science and computing.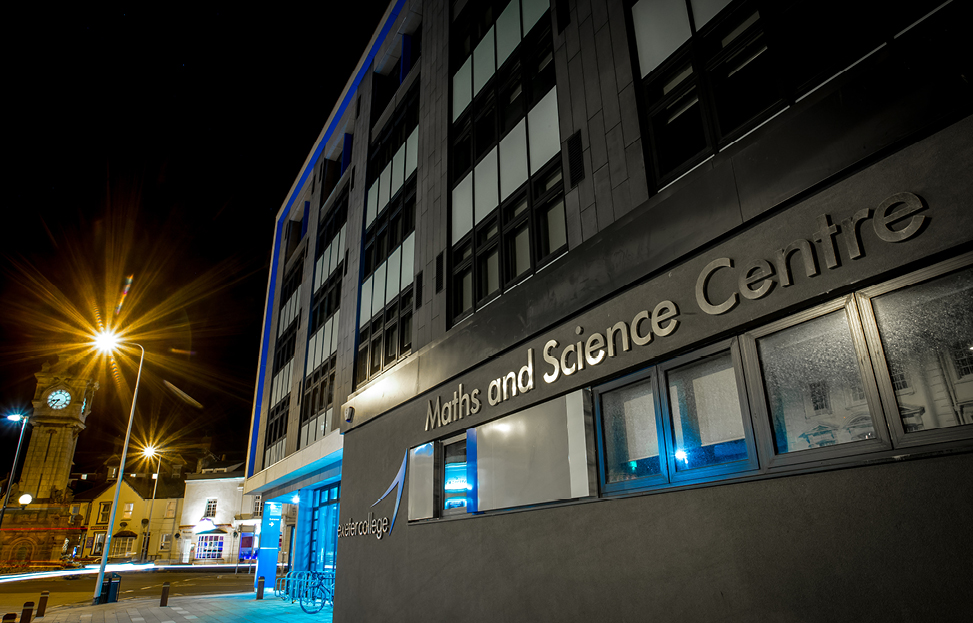 Foundation Learning and Support
Foundation Level courses focus on developing skills for young people and adults who are working towards qualifications at Entry Level, Level 1 and Level 2. We run a range of courses that are bespoke to the varying needs, skills and abilities of our learners and that are aligned with their future ambition.  
Healthcare, Childcare and Public Services
If you are caring, compassionate and are interested in and committed to the safety, health and wellbeing of people, or have an interest in public services such as policing or uniformed services, health and social care, or childcare – then these courses are just right for you.
Previous Virtual Open Event Recordings
Technology Centre
Our world class Technology Centre provides aerospace, engineering and automotive students with state of the art equipment and learning spaces. Our CAD design suite includes 25 computers running the latest industry software, and the CAM workshop contains CNC machining equipment to give you an understanding of modern automated manufacture.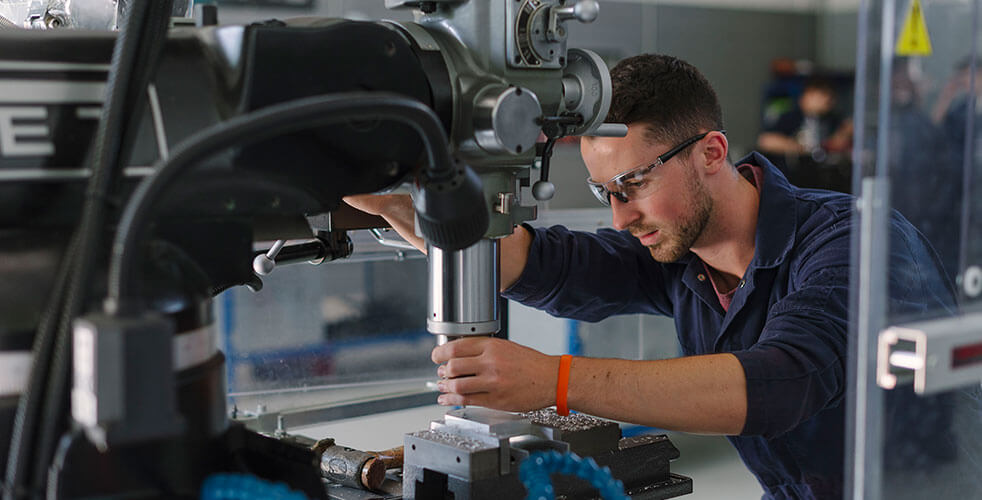 Hospitality, Hair and Beauty
If you are passionate about food and drink and want to prepare, cook and serve great food, you can train in our fantastic professional industry standard kitchens. You could practice your food service, beverage and barista skills in our award winning commercial restaurant, @thirty-four. If you're creative, artistic and enjoy working with people you could thrive in the hair and beauty industry! The college has fantastic commercial hair salons, beauty clinics, theatrical make-up studios and a spa all on site.  
Victoria House
Victoria House is home to our Business, IT and Sports, Leisure and Tourism courses.
With open classrooms that encourage debate and discussion in groups, Victoria House is a hive of activity for students and found right in the heart of Exeter.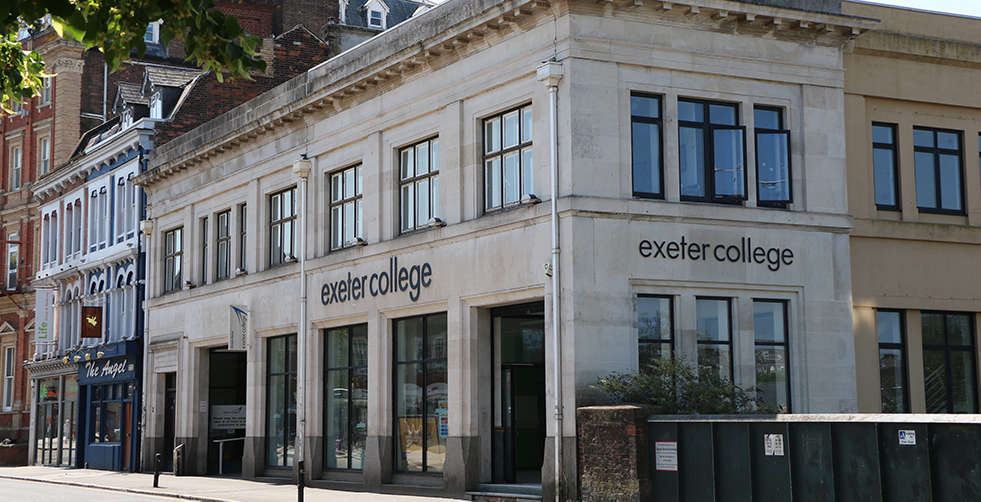 Humanities
We offer an exciting and diverse range of humanities subjects that give you the chance to analyse and understand the world around you. Whether you choose to study physical features of the landscape, the impact of globalisation on our culture and economy or how events of the past have shaped our present, you will leave college with high level skills of enquiry and analysis that are prized by universities and employers.
Previous Virtual Open Event Recording
Management and Leadership
We offer a range of professional courses designed for practising middle managers and those aspiring to senior management who want to develop their core management and leadership skills such as managing resources, recruitment and information management.
Previous Virtual Open Event Recording
Science
Our wide range of separate science or applied science courses are ideal if you are logical, analytical and interested in developing research and technical skills. You will study mostly in our specialist Maths and Science Centre on Queen Street, which has a student hub and café as well as spacious science labs, dedicated maths classrooms and two computer science labs.
Previous Virtual Open Event Recording
Sport, Leisure and Tourism
We offer a diverse range of vibrant sport, PE, fitness and outdoor adventure courses at all levels. You will have the opportunity to learn about sport and fitness in a practical and applied environment, making use of our fantastic facilities. Or you may be passionate about the travel and tourism industry, considering working for an airline, as a resort representative, or in hospitality and events. If so, our travel and tourism courses could be perfect for you.
Previous Virtual Open Event Recordings
Teacher Education
Exeter College offers a full range of teacher and assessor training. There are qualifications for those who are already working in a teaching or assessing role, and qualifications for those who are new to the sector, including the Level 3 City & Guilds Award in Education and Training, the CertEd in Post Compulsory Education, PGCE, and the CELTA for EFL or ESOL teachers.
Previous Virtual Open Event Recordings
Leisure Courses
We offer a large range of leisure courses for adults - everything from pottery to Japanese - there is a course to suit you. You could discover a new hobby, make new friends, develop a skill and have a lot of fun along the way.