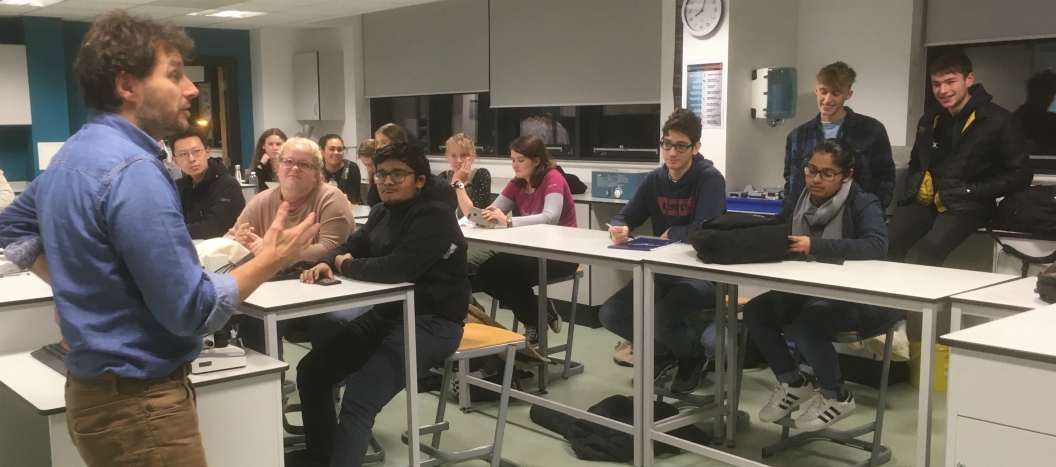 University Medical Interview Masterclass for Exeter College Students
Exeter College's would-be future doctors, dentists and vets have been given the inside track on getting through the interview process universities hold for these professional degrees. A Level and International Baccalaureate learners in the college's Medics Society practiced their skills in an interview masterclass held in the college's Maths and Science Centre. 
University applications to study medical-related degrees including veterinary science and dentistry are notoriously challenging, but Exeter College has moved to support these aspiring professionals with an interview masterclass from Dr Alex Harding from the University of Exeter Medical School, who has extensive experience in the admissions process at the University.
"It's clear that these sessions are having a genuine impact and helping our students get where they want to go in life,"

Martin Gilbert, Exeter College Lecturer
Dr Harding joined Exeter College's university applicants for medicine, dentistry and veterinary courses to talk through the interview process before splitting the group up in to smaller focus groups to practice their interview technique.
Exeter College Lecturer Martin Gilbert, who also leads the college's Reach Academy for academically gifted students, was delighted to have Dr Harding share his wisdom with the college's Year 13 students.
"There is no doubt that what Alex does with our students makes a huge impact on their performance at interview and ultimately on the number of university offers made to our students," said Martin.
"Our learners are incredibly successful in gaining offers to study extremely competitive degrees such as medicine thanks to the extra support they get in sessions such as this.
"Students gain a great deal of confidence through the guidance of our interview masterclass sessions. The first time we ask students why they want to be a medic they nearly always stumble and trip over themselves. But by the time they have finished the sessions with Dr Harding and his team they are able to clearly and professionally express their ideas in a confident and genuine way."
In addition to practicing interview-based questions, Dr Harding and his team from the University of Exeter will also discuss important information around the ethics of working in the medical profession; key principles that are discussed during medical interviews for university.
"The ethical considerations are about learning how to weigh up problems and thinking about things in a different way. They've got to practice that process and these sessions help enormously with that," said Martin.
"It's great when we get people like Alex in who can reinforce these key messages and let students know what it's actually like to go through that interview process. He's able to give students tips and advice on how to make sure you make the best possible impression and get to study what you want at university. It's really invaluable to our students."
Dr Harding has been facilitating sessions with Exeter College students for the last three years, and Martin confirmed the impact the sessions had made on the success rates of medical, veterinary and dentistry applications.
Martin continued: "We can see a very clear upward trajectory of our students' success rates when making these notoriously difficult applications to university since Alex has been coming to help our students. It's clear that these sessions are having a genuine impact and helping our students get where they want to go in life."
Reach Academy Success 
The students who attended Dr Harding's masterclass sessions were largely made up of Exeter College's Reach Academy students – an extracurricular group of academically gifted students who build skills with the aim of getting students into their first choice university. As part of the Academy, students get the chance to go on trips, attend stretching extra-curricular lectures and debates, hear from inspirational guest speakers and receive one-to-one guidance around their university application.
The Reach Academy itself celebrated a hugely successful academic year over summer 2019, with 50 Oxbridge applications made and a massive 28% offered conditional places to study at the prestigious universities.
In addition, the most recent academic year saw the Reach Academy support 23 applicants for medicine, veterinary science or dentistry and 70% were offered conditional placements, thanks, in part, to the interview preparation supported Reach Academy events like the one supported by Dr Harding of the University of Exeter.
For the 2018/19 academic year, 100% of Reach Academy students were placed with universities and a remarkable 87% got places at acclaimed Russell Group universities.  
Apply now to study with Exeter College from September 2020.
Find out more about the Reach Academy at Exeter College.
Take a virtual tour of our state-of-the-art Maths and Science Centre.