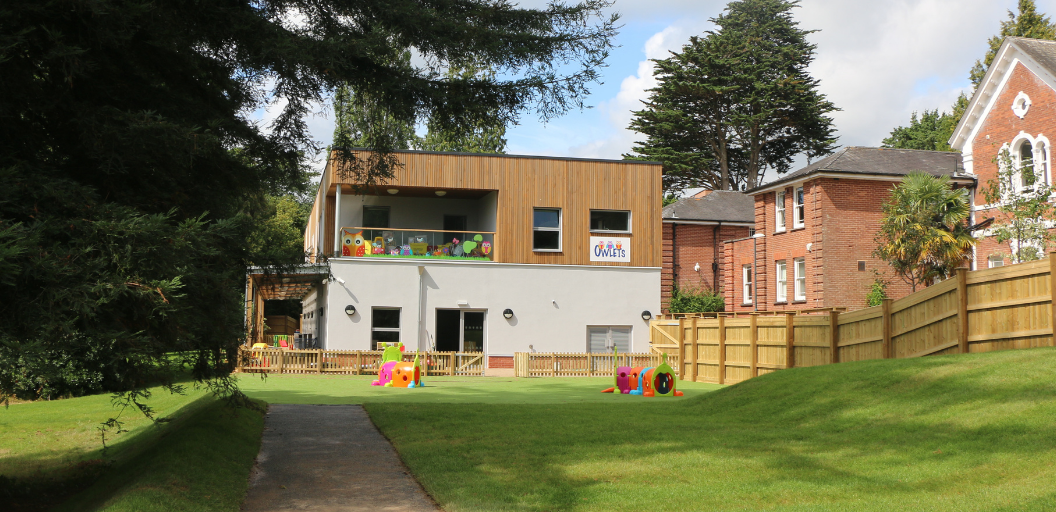 Owlets Nursery Nurtures "Confident and Inquisitive" Children, Says Ofsted
Staff at Owlets are celebrating after they received a 'Good' rating from Ofsted in their first inspection, since opening in 2019.
The Nursery is part of Exeter College and is a partnership with the University of Exeter. It provides high quality childcare and early learning in a purpose-built environment for children aged three months to five years. 
Ofsted visited the nursery in early December 2021 to judge its overall effectiveness and rated it as 'Good' in all areas. The report states:
"Children are confident and inquisitive learners. They enjoy their time at the nursery and are keen to explore their surroundings. Staff plan activities that meet children's interests and help them to develop key skills."
Sarah Edge, Operations and Standards Lead at Owlets, said:
"I am absolutely delighted with the result of the inspection. It has been a difficult time for everyone so this has been a huge thing for us to achieve. The whole team have worked incredibly hard, not only to get us where we are today, but also putting plans in place for what we want to do next.
"This report has given us a springboard to continue to develop and provide the very best experience for the children in our care. We are very lucky to have an amazing purpose-built nursery with fantastic outdoor space so there are a lot of opportunities. Everything we do is all about the children, we are continually striving to improve our practice."
The report praised the nursery's work around communication, saying:
"All children develop good communication skills, including those with English as an additional language. Staff gather information about children's backgrounds, cultures and sounds that they can say, to help support their overall language development."
In addition, it highlighted the excellent work they do in developing a healthy lifestyle:
"Children have strong opportunities to be active and develop a good understanding of what constitutes to a healthy lifestyle."
Sam Hillman, Assistant Principal for Curriculum at Exeter College, said: "To achieve an Ofsted Good rating is fantastic and a brilliant endorsement. I am immensely proud of the Owlets staff team who work incredibly hard to provide our children with high quality care and a stimulating early years education that is inclusive and fosters independence, confidence, and curiosity. Thank you also to our parents who are our biggest supporters."
Alison Davidson, Director of Sports and Grounds at the University of Exeter, said: "To receive this Ofsted rating for the Owlets Nursery on the University Streatham Campus, is a fantastic outcome and assures us of the quality service in place for our staff and students. We thank all the staff involved who work within the Nursery."
Further comments included:
"Parents comment positively on the nursery and state that staff are positive and caring."
"Children behave well and play cooperatively with their peers and adults alike."
"Children gain strong independence skills."
"Management and staff have a good understanding in their role and responsibilities in protecting children from harm. They are alert to potential signs when a child's welfare is in danger and are confident to report these to relevant safeguarding partners."
The caring team at Owlets are well qualified and aim to provide a safe, secure, happy and enabling environment where every child can learn, develop and grow. Find out more by calling 01392 400175 or visit the website.