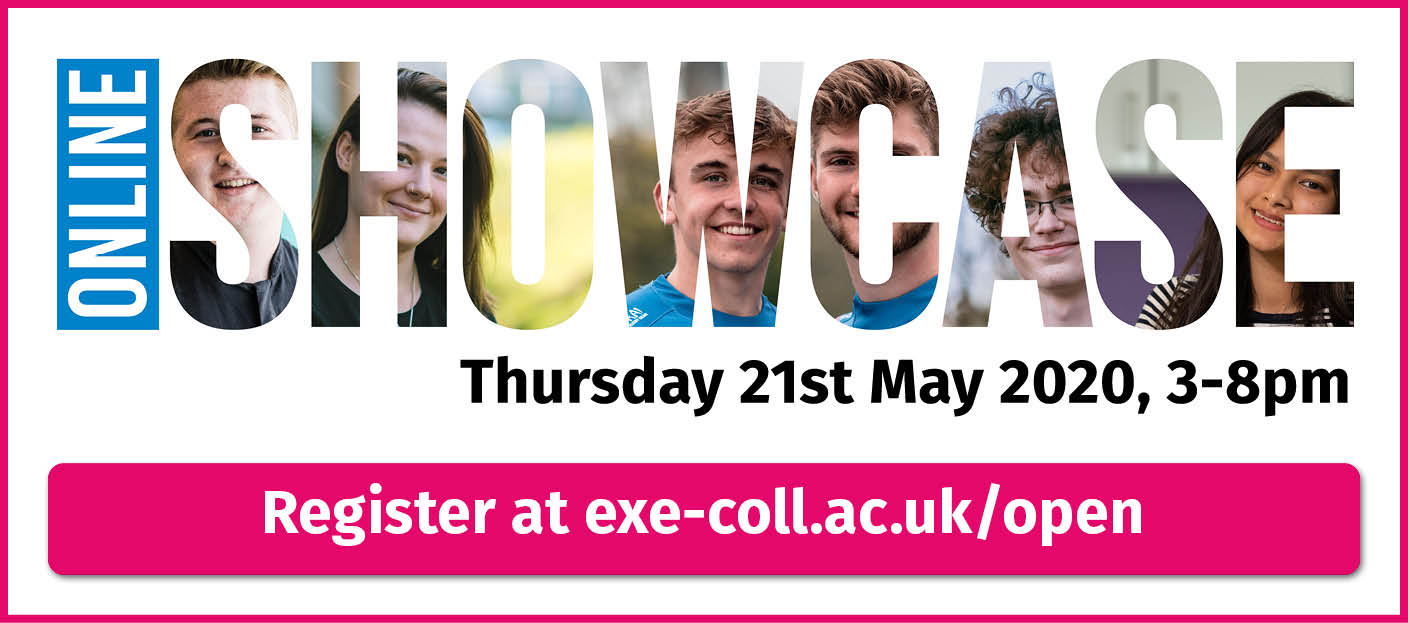 How to make the most of Exeter College's Online Showcase
UPDATE: The Online Showcase is has now taken place. Check back on our website in the next few days for the seminar recordings.
View our video playlist on support with Exeter College.
We're inviting you to our all-new Online Showcase, Thursday 21st May 2020, 3 pm – 8 pm. Our Online Showcase will provide you with everything you need to know about coming to Exeter College, all from the comfort of your own home.
Perfect for years 9s, 10s and 11s who are thinking about their education after secondary school, our Showcase will allow you to find out more about the courses, subjects and clubs we can offer you.
Not only does each session include a live, interactive seminar with a subject leader, but you will also have the opportunity to ask course-related questions.

Additionally, you'll have access to a talk from the Principal, you can hear from our College Advice Team, and you can learn about the Travel Scheme.
But what can you do to make the most out of the Exeter College Online Showcase? This is what we recommend…
Register
First things first, you need to register your interest in our Online Showcase. To do this, select which subjects you would like to attend from the drop-down menus on our open event page.
If you don't see any subjects which take your fancy during a time slot, feel free to leave those session times blank.
Although we've tried our best to stagger courses so that you can hear from all the subjects you're interested in, if two of your session have the same time slot, don't worry! We will be recording our seminars and they'll be available to watch after the Showcase.
How it works
Once you've registered, we'll send you an email with your times so that you know when to tune in.
On the day of the event, we will email you links to join the Showcase session slots. All you need to do is click on the link at the start of the session time and you're in!
This email will also give you access to the Principal's talk on learning with Exeter College as well as access to videos outlining the support services we can offer you.
The Showcase will be streamed via Microsoft Teams. There's no need to install the software, you just click the link in your email and you will access the seminar via your web browser.
Questions
Each session will be around 30 minutes long and split into two sections. The first part will be an interactive seminar run by the subject leader. During the second section, you will have the opportunity to ask live questions about the course. Just type your questions in and get your answers!
Make sure you have a notepad and a pen on you during the session. This way, you can jot down any questions that pop into your head throughout. If you want to be extra prepared, you could also note down a few questions before the seminar begins.
Social Media
Once the live Showcase element is over, you can still hear from your other subject leaders. If there was a session that you weren't able to attend, or if you would like to watch the seminar again, we will be uploading the recordings online in the days following the Online Showcase.
Keep an eye on our social media channels to keep updated. You can find us on Twitter, Facebook and Instagram.
Apply to Exeter College
If you've been impressed by what you heard during our Online Showcase, and we hope you are, apply to study at Exeter College. We're currently accepting applications for the September 2020 start.
If you need any help with your application during the current Coronavirus pandemic, check out our frequently asked questions, or contact our college advice team on CAT@exe-coll.ac.uk. If you've already applied and want to talk about your application, please contact info@exe-coll.ac.uk.