Are you ready to make a difference and launch your future in a life long, rewarding career?
Our Caring Careers Unlocked programmes offer you pathways to develop care related knowledge, employability skills and behaviours.
It is the perfect steppingstone into a lifelong career in the Health and Social Care sector and provides a variety of personal and professional development opportunities.
You do not need an employer to start on this course, all you need is commitment and a desire to learn and develop.
Find out more about this course below.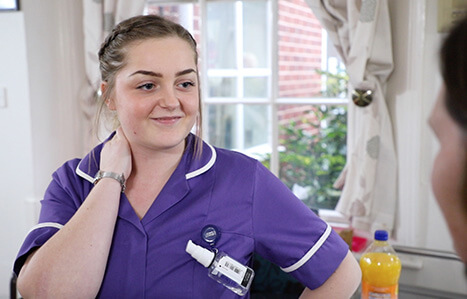 ---
Caring Careers Unlocked Pathways
Pathway 1 – Employability Skills Introductory Award
This pathway covers a range of core knowledge and skills to support your personal and professional development within the care sector. It allows you to choose units relevant to your interests and current needs.
Pathway 2 – Food Safety Award
This pathway covers all aspects of food hygiene and safety. It will provide you with the knowledge to identify issues and apply skills to ensure the safety of self and others
Pathway 3 – Management and Leadership Award
This pathway will support you to identify the benefits of engaging in personal and professional development for yourself and a team. You will use the knowledge gained to create a meaningful development and progression within a caring career.
*Please note the following units are not included in the Employability awards = Unlocking the pathway into management and leadership / Unlocking food safety practices in a care environment
What's included?
---
What is HSSAP?
The Health and Social Care Skills Accelerator Programme ('HSSAP') brings together a consortium of NHS Trust and Social Care Employers, FE and Training Provider Partners and Local Authority Partners within the Heart of the South West Transition Area to bring forward an enhanced programme of sector specific skills and training activity.
This qualification is funded by the ESF and a consortium of NHS Trusts and social care employers within the heart of the South West LEP as part of the HSSAP.
Contact Us
Please register your interest via the link below.
You can also find out more about this programme by emailing apprentices@exe-coll.ac.uk with the subject 'HSSAP', or by calling 01392 400800.
---
Find out more about Caring Careers Unlocked by listening to our podcast.
This is the first podcast in our caring careers unlocked series, introducing you to our new health and social care accelerator programme. This episode will explore the course and give you an insight into potential career pathways.